India Entry Strategy 2 : Branch Office in India
Foreign companies engaged in manufacturing and trading activities abroad are allowed to set up Branch Offices in India for the following purposes:
Export/Import of goods.
Rendering professional or consultancy services
Carrying out research work, in which the parent company is engaged.
Promoting technical or financial collaborations between Indian companies and parent or overseas group company.
Representing the parent company in India and acting as buying/selling agents in India.
Rendering services in Information Technology and development of software in India.
Rendering technical support to the products supplied by the parent/ group companies.
A branch office is not allowed to carry out manufacturing activities on its own but is permitted to subcontract these to an Indian manufacturer. Advantages include easy operations, less formalities & simple Exit Procedure.
Branch Offices established with the approval of RBI, may remit outside India profit of the branch, net of applicable Indian taxes and subject to RBI guidelines Permission for setting up branch offices is granted by the Reserve Bank of India (RBI).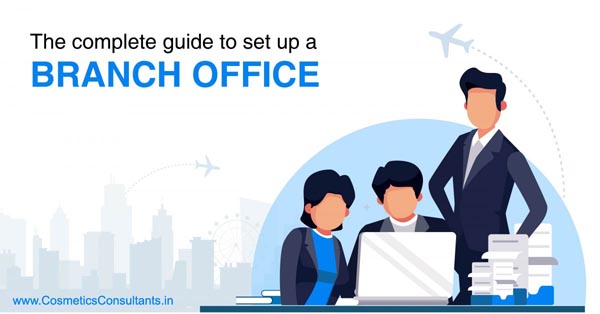 Procedure
Foreign company has to make application to RBI through AD Category-1.
Registration with Registrar of Companies (ROC), New Delhi and ROC, Mumbai
Procuring Digital Signature Certificate for the India representative of the Indian office.
Registration with Income Tax Department for obtaining Permanent Account Number (PAN) & Obtaining Tax deduction Number (TAN)
Registration with Import-Export Authority for theImport Export Code Number (IEC) Permission to set up Branch Office is initially granted for a period of 3 years, which may be extended from time to time with RBI approval.
Documents needed
Copy of the Certificate of Incorporation / Registration attested by the Notary Public in the country of registration
Latest Audited Balance sheet of the applicant company
Bankers' Report from the applicant's banker in the host country / country of registration showing the number of years the applicant has had banking relations with that bank.
COSMETICS CONSULTANTS INDIA PTY – COSMETICS MARKETING CONSULTANCY

Cosmetics Consultants India Pty offers customised solutions to help your business enter and succeed in the Indian market by providing best consultation services focussing on cosmetic marketing and cosmetic import regulation in India.

Cosmetics Consultants India Pty provides you with a careful research and analysis of existing sales channels, consumer preferences, pricing structure, product mix, brand positioning and good planning which are the key factors for successful entry in the beauty and cosmetics market in India.

Cosmetics Consultants India Pty provides consultation service for cosmetic products marketing & import regulation in India. Our team handles end-to-end process of getting registration for Cosmetic Products Marketing & Import Regulation in India.