Market Assessment: Can I Sell and/ or Should I Sell?
A Turnkey Solution to Commercialize your Cosmetics in India begins with CDSCO registration as Form COS-2 Cosmetics Import Registration Certificate.
In case of a non-availability of a pre-contracted seller, the companies often make the mistake of doing bulk registration of their Cosmetics without actually realizing whether they have a market or not in a country. Alternatively, companies start talking to distributors who they meet at congresses/trade shows and spend a lot of resources and time in understanding the market and they find out they do need a small yet significant regulatory requirement in the country. Import Registration of Cosmetics in India is mandatory by the regulation made by CDSCO for Marketing the Cosmetics in India.
Our Work Style
At this stage, Cosmetics Consultants India Pty simplifies the situation with Market Research of Cosmetics in India, which answers two main questions – Can I sell ? and/or Should I sell ?. Illustrated below are some samples questions on which the research is based. On understanding your product, currently regulatory status, pricing options, logistics and warehousing support systems in accordance with regulation and registration of your product approved by CDSCO in India,we generate a list of states and marketing avenues within India to target.
UpToDate Knowledge
We understand the Cosmetics products, competitive advantages, key selling points for both CDSCO regulation and registration with market research in India
Direct Feedback
We get Reports straight from Distributors/End Users/ Purchase Managers of different Cosmetics Marketing Agencies in India
Product Placement
We help you get an informed Evaluation to determine the placement of product in the local market.
The Answers We Provide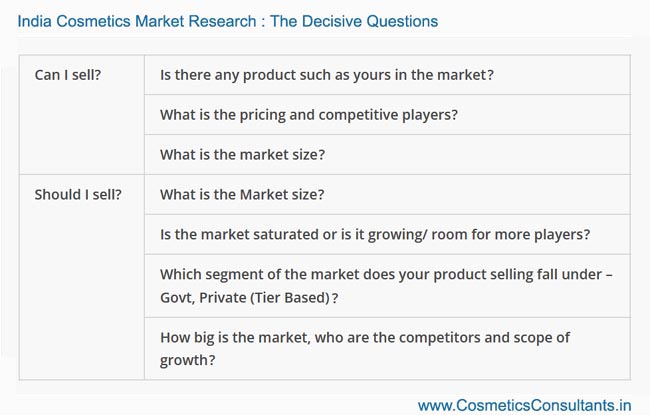 COSMETICS CONSULTANTS INDIA PTY – COSMETICS MARKETING CONSULTANCY

Cosmetics Consultants India Pty offers customised solutions to help your business enter and succeed in the Indian market by providing best consultation services focussing on cosmetic marketing and cosmetic import regulation in India.

Cosmetics Consultants India Pty provides you with a careful research and analysis of existing sales channels, consumer preferences, pricing structure, product mix, brand positioning and good planning which are the key factors for successful entry in the beauty and cosmetics market in India.

Cosmetics Consultants India Pty provides consultation service for cosmetic products marketing & import regulation in India. Our team handles end-to-end process of getting registration for Cosmetic Products Marketing & Import Regulation in India.