India Entry Strategy 3 : India Joint Venture Office
Foreign companies can also to set up wholly owned subsidiary in sectors where 100% foreign direct investment is permitted under the FDI policy. A company can be registered as a Private Limited Company or Public Limited Company. Private Company is a closely held Company and can frame its own rules and bye laws. Public Company is a Company, where public is interested and is heavily regulated in India. Further, if investment in a Company is being made by a Foreign National, then compliance with regulations prescribed by Reserve Bank of India (Bank) is necessary.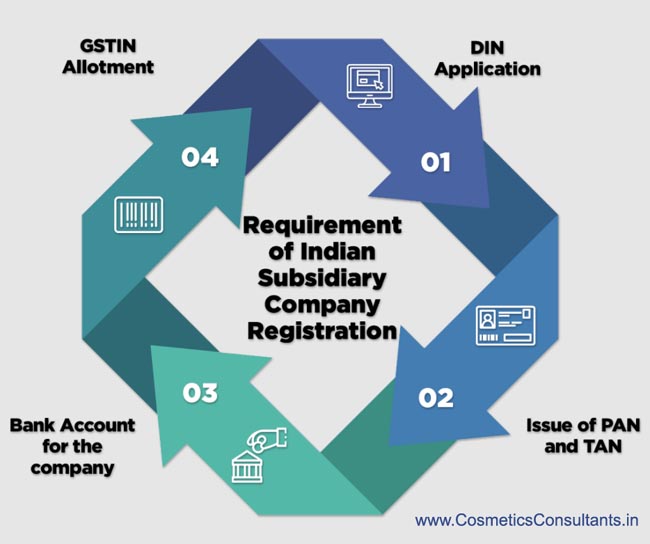 Fully owned subsidiary entails the following advantages:
Civil and criminal liability is always on the managing director of the foreign company. He has to attend india court in case of court proceedings.
Tax rate is 40% instead of 30%.
The tax authorities would ask for you global accounts and try to tax your global profits saying major work is being done from india.
Enjoy greater flexibility and operational freedom
Procedure
Holding Company in Foreign Country must pass a Board resolution for incorporation of Subsidiary in India. and to elect 2 directors. Discuss whether they want to have a pvt ltd or Public ltd sub company. Proceed with the registration process of subsidiary company. The total process is divided in two parts
Step 1 – Incorporation of a Private Company
Application of unique Director Identification Number (DIN) of the two directors. 1.Obtain a DIN (Director Identification Number) 2.Obtain a Digital Signature
Get 'name availability' from Registrar of Companies (ROC).
Decide on a premise for the proposed subsidiary and obtain NOC from the landlord
Once name is approved, memorandum and articles of association is submitted along with duty fees.
Ministry issues a certificate of registration of the Company once queries are answered.
Obtaining other registrations like local licenses, Income tax registrations,
Open a bank Account in the name of the Company.
Step 2 – Compliance with RBI guidelines at the time of investment in a Private Company
Register the company with the RBI with its guidelines.
Appoint an auditor each year at its AGM. An auditor must be qualified by virtue of the Institute of Chartered Accountants of India Act 1949 and completely independent of the company.
Documents required
Form No. 1 – declaration to be executed on a non-judicial stamp paper of INR 20 by one of the directors of the proposed company stating that all the requirements of the incorporation have been complied with.
Form No. 18 – This is a form to be filed for informing ROC the registered office of the proposed company.
Form No. 29 – Consent to act as directors
Form No. 32 – This is a form that states the names of the proposed directors.
Memorandum Articles of Association(MOA) and Articles of Association (AOA)
Name approval letter in original. Power of Attorney signed by all the subscribers of MOA authorising one of the subscribers or any other person like us to act on their behalf for the purpose of incorporation and accepting the certificate of incorporation.
COSMETICS CONSULTANTS INDIA PTY – COSMETICS MARKETING CONSULTANCY

Cosmetics Consultants India Pty offers customised solutions to help your business enter and succeed in the Indian market by providing best consultation services focussing on cosmetic marketing and cosmetic import regulation in India.

Cosmetics Consultants India Pty provides you with a careful research and analysis of existing sales channels, consumer preferences, pricing structure, product mix, brand positioning and good planning which are the key factors for successful entry in the beauty and cosmetics market in India.

Cosmetics Consultants India Pty provides consultation service for cosmetic products marketing & import regulation in India. Our team handles end-to-end process of getting registration for Cosmetic Products Marketing & Import Regulation in India.